Welcome and Be Inspired!
Here you can find all my projects and much more for your inspiration!
Most recent Podcast Episodes
I have wanted to get my hands on a drum set for ages. But they cost money and take up space, so the obvious choice was to make one myself.…
Sometimes you have an idea stuck in your head. One of those was turning things from OSB, and after some moderate success with tea light holders (available in my Etsy…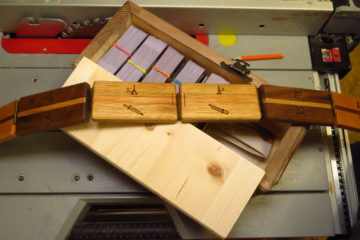 If you are familiar with the Witcher games and books, you might have come across the card game Gwent. It features prominently in The Witcher 3 and has been given…
Random Projects for your Inspiration
Want to get rid of some old boards while making the world a better place? Make a traffic awareness standee to remind drivers to watch out for playing kids. Also,…
Not every tea light holder is a success. I had high hopes for this Te-Fiti inspired tea light holder, and these hopes went up in smoke, literally. I hope you…
In this new Adventure in the Workshop, my daughters and I made a garden obstacle for them to play horse, featuring variable heights, scrap use and a lot of "horsing…
Random Weird Stuff for your Inspiration
Just in case this is not obvious from the start, this is not my most serious video. Still, I do believe that it is not only worth watching but also…
When I recently tested a blacksmithing technique on a piece of plastic cutting board. I had the idea to tick something else off my list. Something that had been on…
As if demons and witches from the sky and intimate knowledge about an uncertain future were not bad enough, there is even more to the Rauhnächte than that. Even though you…
This is me!
I am Dominic (on the right) and I am here to inspire you. Between projects from my workshop, tabletop roleplaying and fantasy cooking, I am sure there is something here for you. Not to mention the mildly inconvenient cult that has taken an interest in what I do.
How do you want to Be Inspired?
Inspire your inbox!
Subscribe and never miss a project!
Thank you for subscribing!
Something went wrong...