Welcome and Be Inspired!
Here you can find all my projects and much more for your inspiration!
When you cannot get the beauty sleep you need in your workshop (or a bedroom for that matter), help is not far. Grab a bunch of marbles, a slice of…
I started this project years ago and finally got around to finishing it. These garden snakes can be made from scraps or cheap slats, and designed in a number of…
You probably know that I like working with OSB because it looks rather interesting and is not that bad to turn on the lathe either. So I felt inspired to…
Random Projects for your Inspiration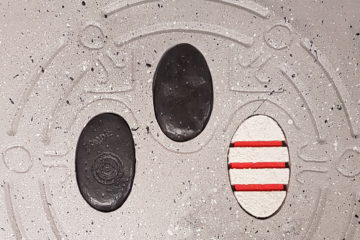 I have a long-standing fascination with "artifacts", that is cool props from movies or TV that I would like to own. Some are plain cool, others resonate with me in…
I do not own a lathe, but after watching many videos on YouTube about beautiful turnings by skilled turners that made everything look easy, I wanted to try my hand…
While wooden scraps are most prominent in a wood shop, there are other materials that usually end up in the trash. Packing bands are one of those materials, but with…
Random Weird Stuff for your Inspiration
Hopefully my last installment of the time-honed tradition of 2×4 contest trash talk, I am hashing out some artistic differences with my fellow 2×4, Tooby. I hope this will be…
There has been a new trend in the woodworking community, with guys like Matthias Wandel, David Picciuto and Jimmy DiResta mowing their lawns – and sharing the experience on YouTube.…
To celebrate the inofficial Star Wars holiday, May 4th, I made this eshaust grate, a vent cover that has been requested to be made proton-proof – although I might be…
This is me!
I am Dominic (on the right) and I am here to inspire you. Between projects from my workshop, tabletop roleplaying and fantasy cooking, I am sure there is something here for you. Not to mention the mildly inconvenient cult that has taken an interest in what I do.
How do you want to Be Inspired?
Inspire your inbox!
Subscribe and never miss a project!
Thank you for subscribing!
Something went wrong...